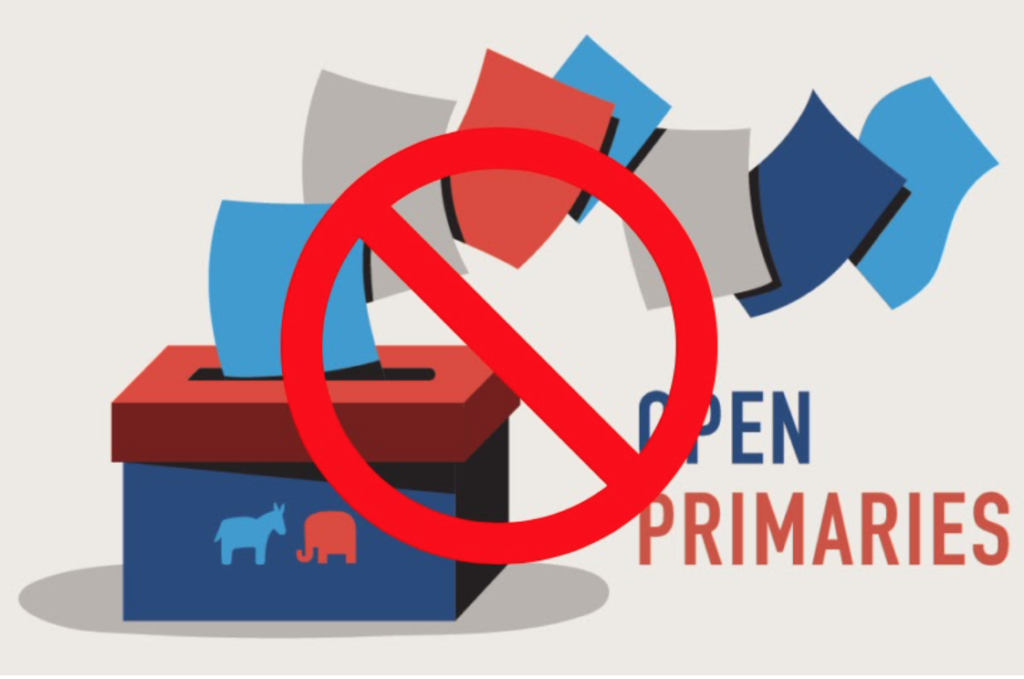 It's no secret that despite the overwhelming majority (near unanimous in fact) of our Republican State Central Committee voting to officially pursue a lawsuit against the unconstitutional open primary two years ago, the past administration and Chairwoman didn't make this critical effort a priority.

We've turned a corner now and are pleased to announce that an actual bank account was created and is being maintained. We are ready to accept funds for those who want to chip in.

Furthermore, we have an independent oversight committee chaired by former State Senator Kevin Lundberg who is leading the charge on this important project. The committee has been quietly working to put everything in place for this announcement and, ultimately, for our Party to be successful in this fight.

Here's the truth, Republicans Should Choose Republican Candidates.
That should be a self-evident statement, but in Colorado it is not true. In 2022 more than twice as many unaffiliated voters received a Republican ballot in the primary than registered Republicans, and nearly 40% of those who voted in the Republican primary were not registered Republicans.
This upside-down election policy has been in place since the 2016 election, when Colorado voters adopted the open primary system. It permits unaffiliated voters to vote in our primary.
Since then there has been a significant drop in Colorado Republican membership, there are no statewide Republican elected officials, the legislature has the least number of Republicans in 80 years and the number of Republican county officials is dropping.
The open primary has been devastating to the Colorado GOP. It has opened the floodgates to liberal progressives who are fundamentally transforming Colorado into a high-tax, broken-economy, big-government, woke-world.
The open primary has also ratcheted up the cost of primary elections for counties and candidates. County clerks must print, mail and process millions more ballots. Primary candidates are forced to spend much more at the primary level to expand their outreach as the raw numbers of ballots and voters is that much bigger.
Finally, the open primary is not constitutional. In 2000 the US Supreme Court's Jones decision declared that a political party cannot be forced into an open primary system. At a minimum it violates the citizens' constitutional freedom of association.
For all of these reasons the Republican State Central Committee voted to challenge the open primary in federal court and the party's executive board has also voted to move forward with this lawsuit. We only need one more step to make this so. We need your help to fund this vital project.
Federal lawsuits are expensive, but if everyone pitches in we can aggressively challenge this unconstitutional, unworkable law that is crushing the two-party system here in Colorado.
These could be the most cost efficient dollars you invest in our state's future. There is a lot that needs to be done to clean up our elections in Colorado and this is the first and most productive step we must take right now.
Please join us by contributing to the funds that have been set up to launch this significant challenge to Colorado's open primary system.
You may give directly to the Colorado Republican Party with a donation that is not tax deductible, but also does not count towards the contribution limits for donations to the party. This is because these funds will not be used for the endorsement or promotion of any political candidates. The link to donate is:
secure.anedot.com/colorado-republican-party/legal-fund
To mail checks:
5950 S. Willow Drive, Suite 210, Greenwood Village, CO 80111. Please specify that this is for the open primary lawsuit.
A fund has also been set up with the Claremont Institute for Constitutional Jurisprudence, which is a 501(c)(3) organization and these contributions can be tax-deductible when itemizing your tax deductions.

Please specify that this is for the Colorado open primary lawsuit. The link to donate is: http://ccjlitigation.com

The mailing address for checks is on the website link.
For Freedom,


Dave Williams
Chairman, Colorado Republicans