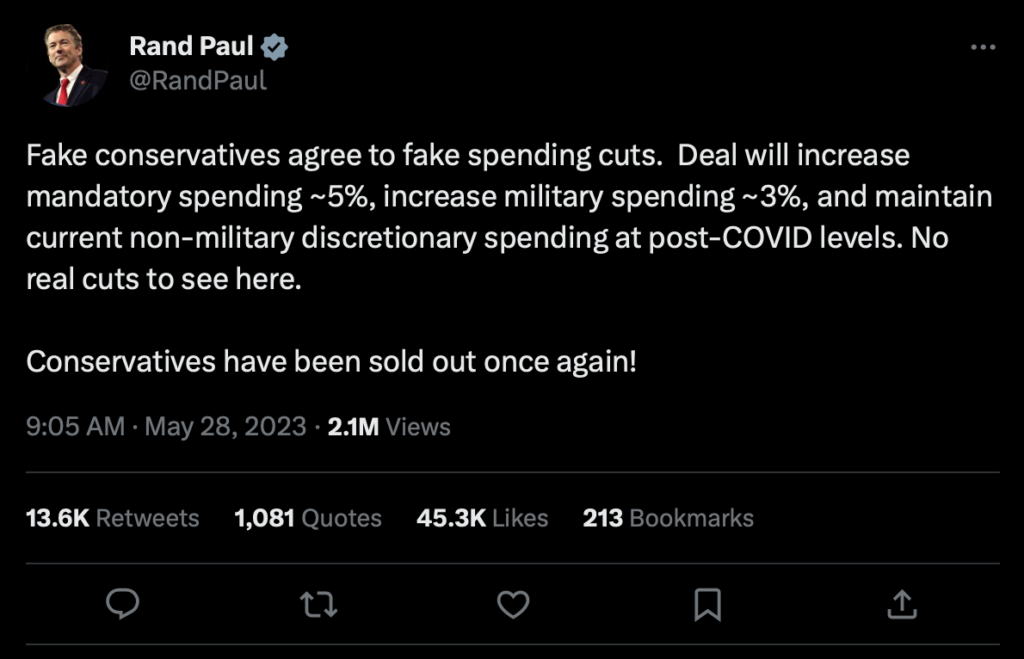 This past Wednesday, the Biden-McCarthy debt ceiling "deal" passed… thanks largely to Democrats coming in at the last moment to defeat conservatives.
In fact, more Democrats voted for the Biden-McCarthy debt ceiling fiasco than Republicans, and that should tell you all you need to know.
Our own Congressman Ken Buck characterized it best by saying on Newsmax, "Speaker McCarthy couldn't even get this bill on the floor, he couldn't pass a procedural rule, without Democrat support […] this is a disgrace and the American people understand when you increase our national debt by 4 trillion dollars you are doing the Democrats' bidding."
The Colorado Republican Party thanks Congressman Ken Buck and Congresswoman Lauren Boebert for forcefully and publicly opposing this debt scheme that the Washington establishment and special interest insiders forced on us.
Below is a good graphic on why this so-called "deal" was bad for Colorado and the American people. Pay close attention to the highlights listed in the right column that shows the 4 trillion dollar increase Democrats got out of the deal.
Congresswoman Boebert said it best, "No sensible conservative can vote for this."
We couldn't agree more and, again, this is not why the American people elected Republicans into the majority, and it's another reason why hard-working taxpayers lose faith in the leaders of our party.
Republican leaders must keep their word to rein in out-of-control spending and stop increases in big-government… but unfortunately not every Republican will.
Our national debt has increased exponentially and we need Republicans in Congress who will actually fight back against this crisis and stop the madness instead of paying lip service.
Colorado Republicans thank every lawmaker who opposed this disastrous Biden-McCarthy debt scheme. Below is a list of House Republicans who opposed this bad deal along with Colorado's own Buck and Boebert. Please be sure to send them a note of appreciation.