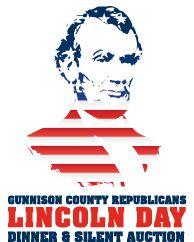 GET YOUR TICKETS ASAP  – EMAIL donations@gunnisoncountyrepublicans.org
RESCHEDULED TO SEPTEMBER 9TH!!
Save the date for the annual Gunnison GOP Lincoln Day Dinner!
CONGRESSWOMAN LAUREN BOEBERT WILL BE ATTENDING & SPEAKING!!!
Speakers: Gunnison School Board Candidates – Cori Dobson, Lisa Henry, Bonnie Thompson
Speaker: Duane Vandenbusche – History of Politics in Colorado & Gunnison County
Silent Auction
Dinner provided by 5 B's Barbeque
Tickets: $60/person
SATURDAY, SEPTEMBER 9, 2023, 5:00pm-9:00pm
Fred R. Field Western Heritage Center, 275 S. Spruce St, Gunnison
Click here for more information & tickets.