Gunnison County Sheriff, Rick Besecker
Sheriff Besecker's 42 years as a law enforcement professional began in 1972 in Saguache as a special deputy and later the same year in Gunnison County. After serving several years with the Gunnison Police Department, Besecker was offered and accepted a position with the Gunnison County Sheriff's Office. In 1982, he was appointed to the position of Undersheriff by Sheriff George Kenady.
Besecker held numerous positions with the Gunnison County Sheriff's Office including, Jail Commander and an unprecedented 20 years as Undersheriff, more than any previous undersheriff in the history of Gunnison County. Besecker is in the third year of his second term as Sheriff and may seek re-election.
County Treasurer, Debbie Dunbar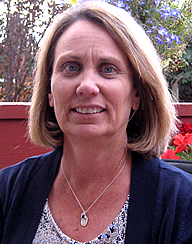 Debbie Dunbar has been in the Gunnison Valley for 25 years and has spent 17 of those years, from 1985-2000 and 2011 to current , working in the Treasurer's Office. Debbie is currently the deputy treasurer. She came back to the Treasurer's office at a time when they were converting to a new software program. That was a very rocky time for the office because the software did not work the way it was represented. With her understanding of how the Treasurer's Office operated, she has aided in getting the software functioning.
She has been working with the software company to get a web page on the county's website so anyone can check the "real time" payment status of property taxes. The page is now up and running and she is still working on enhancements to the site.
Debbie understands and can carry out all aspects of the job, from knowledge of relevant Colorado statutes to all procedures of the Treasurer's Office and the Public Trustee's Office. For 17 years, she has been doing the work within the Treasurer's Office. She knows exactly what has to be done to keep the office running efficiently and moving forward while maintaining a personal level of customer service.
Gunnison County Commissioner, Phil Chamberland
Relentless Service to Gunnison County since 1994
Small Business Owner since 1994
Gunnison County Planning Commission
Gunnison County Fire Protection Board
Gunnison Valley Hospital Board of Directors
Colorado State Trails Commission
WSC, Mountaineer Athletic Association member
WSC Advisory Council Member
Colorado Snowmobile Association Board of Directors
Secretary for Colorado Snowmobile Association
MAA Board of Directors
Founder of Gunnison County Snow Trackers
Homeowners Board of Directors, North Elk Meadows
Active 4 H supporter
Active Participant with Gunnison County Trails Commission